Our International and Domestic Terminals are designed to make your travel as easy and carefree as possible. The maps and information below should help you understand the airport's layout and find what you need easily.
Terminal Maps
Passenger Services located on the first floor: customer service counters for domestic carriers, Arrival and Departure Information, Baggage Claim, Rental Car concessions. Laptop data ports are available on both levels of the domestic terminal.
The spacious second floor of our Domestic Terminal welcomes you to local shopping and casual dining while you await your flight.
Shopping
The Grasshopper Shop features clothing, accessories, jewelry, gifts, novelties, toys and an eclectic blend of music. They also have an excellent selection of Maine gifts, casual apparel, and necessities.
Restaurants
There's no need to miss a meal when traveling. Whether it's a quick snack, good morning coffee, or dining and drinks with friends, you'll find a range of great options.
Refueler Pub & Grill
Enjoy the hearty fare of a traditional lounge and pub offering superb daily specials, plus a complete pub menu with a New England twist. Ready for lobster?
The Highlands Cafe
Quick, casual and right on the money, the Cafe lets you make your choice throughout the day: breakfast, lunch or dinner. Superb espresso and cappuccino, as well as Maine Blueberry muffins, lobster rolls and traditional clam chowder.
Post-Security Cafe
Looking to grab a quick bite once you're all checked in and through security? Stop by the Post-Security Cafe for a snack or quick pick-me-up before you board.
Nursing Mothers Room
Our Nursing Mothers Room is located on the first floor of the passenger terminal across from the car rental counters. This room provides comfortable seating, access to outlets and privacy for breastfeeding or pumping.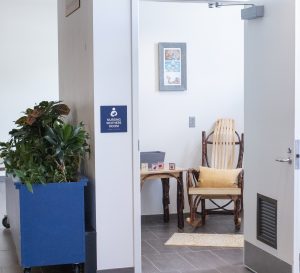 Pets
Bangor International Airport does not permit pets on the premises unless they are in an enclosed animal carrier. Working animals accompanying disabled persons are, of course, permitted. We also have a Service Animal Relief Area located on the second floor of the domestic terminal in the post-security near Gate 3.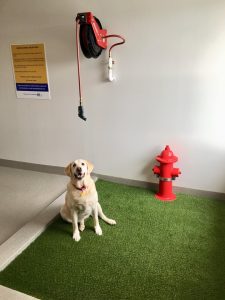 Lockers
Locker storage is not available at the Bangor International Airport. Please do not leave your baggage unattended on airport premises.
Smoking
Smoking, including E-cigarettes, is not allowed in the airport terminals.
Baggage
Baggage Claim
The baggage claim carousels are located on the first floor of our Domestic Terminal. Please contact the respective airline representatives located on the first floor of the Domestic Terminal if you have questions regarding your baggage.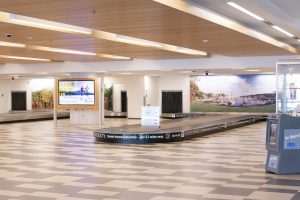 Baggage Carts
Luggage carts are available located on the first floor of the Domestic Terminal. Please return carts to the terminal for others to use.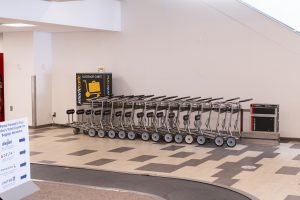 Special Baggage Handling
If you have baggage that will require special handling, let your airline know about it prior to your arrival at the airport.
ATM
There is an automatic teller machine located on the second floor of the Domestic Terminal next to the Refueler Pub & Grill.
Assistance & Disabilities
Senior Citizens, Persons with Disabilities, and Unaccompanied Minors
Bangor International Airport is accessible to persons with disabilities. If you require general assistance while going to or coming from your flight, be sure to let your airline know prior to your arrival at the airport so that they may provide assistance upon your arrival. Escalators between the Terminal levels are provided and elevators are available for those requiring use of an elevator. Please advise your servicing carrier in advance if you require assistance for an unaccompanied minor.
Emergency Assistance
Uniformed and courteous officers of the Bangor Police Department maintain a presence inside and outside of the terminal. Please do not hesitate to ask if you need assistance or wish to communicate with the authorities. The Bangor Police Department maintains an office on the First Floor of the Domestic Terminal. Additional assistance may be obtained by dialing "0" on the page phone located on the first floor and second floor of the Domestic Terminal or, in case of a serious emergency, by dialing 911.